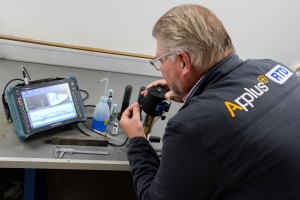 Through experience gained working alongside our clients, it came to our attention that, to be able to meet future challenges in bolt inspection, an upgrade of tools was needed. In close collaboration with customers, Applus+ developed a new prototype with all the technical requirements and features needed to successfully perform this crucial inspection, exploiting all technical possibilities.
The new Bolt Scanner inspection system is an encoded orbiting scanner that renders a practical solution for corrosion extent monitoring and crack detection, providing clear images that show the condition of the bolt thread and any corrosion present in it or in the shaft. It has an adjustable upper probe housing, which clamps the probe in place in spaces as small as 40,0 mm. The inspection is performed without removing the bolts and studs, a cost-efficient solution that eliminates downtime.
Easy-to-interpret imaging stored offline
The probe can be adjusted up and down to reach studs up or below the nut surface, as well as back and forth on the bolt head, stud or shaft surface to achieve optimum scanning position. Adjustable spring mounting ensures probe contact force is evenly applied over the surface, and protective wear face plates ensure that the phased array probe does not suffer any abrasion damage. The scanner can be removed and attached very quickly to the next bolt. The encoder has no wheel, so it cannot slip over the surface.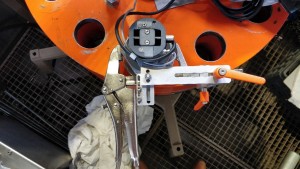 Phased array inspection using the Bolt Scanner enables hard copy output and easy-to-interpret imaging. It also makes it possible to monitor component condition. It can be applied to bolts, studs, bridge pins, and other similar applications. For a quick review of bolt condition, upon completion of the scan, the operator can study the scan data. This data is digitally stored, enabling offline interpretation and accurate repeatable inspections for periodic monitoring of known defects, as well as options for post-analysis or remote analysis.
This new application is a perfect example of Applus+' position as a trusted partner in the industrial sector, a cooperative innovation developed between clients and Applus+ to provide a tailor-made solution that meets market demands and brings a safe and accurate NDT inspection on bolts.