Well, for starters, all the potential risks that can cause its battery to catch on fire, an essential and yet understudied component of this popular urban vehicle.
Local authorities implemented this preventive measure due to several incidents worldwide. Among them West London's recent fire at Parsons Green station.
But, are scooters really that dangerous? Well, they could be, and according to recent firefighter reports, fires caused by scooters are also common in households. Keep reading to understand the potential hazards of scooter battery combustion and what you can do to prevent them.
WHY DOES A BATTERY CATCH ON FIRE?
It's important to clarify that batteries shouldn't explode or cause fires. However, in fire safety standards, a battery is a potential hazardous source of fire, just like a gas butane or a waste paper basket.
A battery can catch fire due to:
Battery overcharge: Typically happens when the scooter battery is charged with an overly powerful source or manipulated by the user. There are countless tutorials that teach users how to boost the scooter's power to increase speed and charging times. But when the battery is tampered with, the auto-safety mechanism that forces it to shut down before overheating is disabled, severely increasing risks.

Short-circuit currents due to defective components: Batteries generate heat, but thanks to its BMS (Battery Management System) mechanism it's able to shut down before it short-circuits. However, many brands reduce BMS quality to reduce costs. The battery is the most valuable component of a scooter, and must be well taken care of. This savings hack can cost users much more than its worth and put their life at risk, choose quality first.

Physically placing it under an already existing fire

Penetration and malfunction due to hit or blow: Batteries can twist or get punctured due to a blow or fall causing a thermal runaway. Due to this chain reaction, there is overheating and an electrolyte switch from liquid to vapor, this can cause the battery to explode, combust or catch fire due to the volume and pressure variation. Battery twists and punctures are especially dangerous because they often go unnoticed by users, who continue using their scooter amidst potential risks.
ELECTRIC SCOOTER FIRES IN PUBLIC TRANSPORT
Indoor fires caused by electric scooter or bicycle batteries can be drastic, this was particularly noticeable after several incidents in the London tube.
You're now aware of the potential risks that can set a battery on fire, but there are other aspects that should be taken in consideration in closed and compact spaces.
First of all, the battery is a source of fire. It continuously emits oxygen, so no matter how hard you try to put out the fire, the battery will tirelessly combust and burn. To make matters worse, batteries have its own fuel, electrolyte and flammable components.
On the other hand, the burning of metal and electrolyte, emits highly polluting and toxic gases. A great detonator in buses, trams, underground stations and enclosed public transportation overall, where gases concentrate and have little space to dilute. Out of all of these factors, it is the toxicity in the combustion that drastically puts passenger safety on hack. And this is one of the main causes for banning scooters inside public transport.
HERE'S WHAT YOU CAN DO TO REDUCE RISKS
Scooters are still new to the market and to users. Experts are still evaluating risks, just like they've done with electric bicycles, cell phones, laptops or electric cars.
Local authorities in European cities are also taking preventive measures. This is the case with Barcelona, where scooters will be banned inside public transport from February 1st until July 1st of 2023, and in a potential future, in closed crowded places.
But risk prevention can't just depend on research experts and local authorities. As a society, it is up to us to gain awareness of potential risks due to the misuse and manipulation of the battery or other parts of the device. We must be cautious of scooters, just like we are with motorcycles or cars.
Finally, battery characterization (determining how it behaves and other factors) is key. In our labs, we test all materials used to manufacture batteries and ensure that those surrounding it don't increase chances of fire through their fuel. R&D tests are also carried out for the development of new batteries and thermal runaway protection solutions.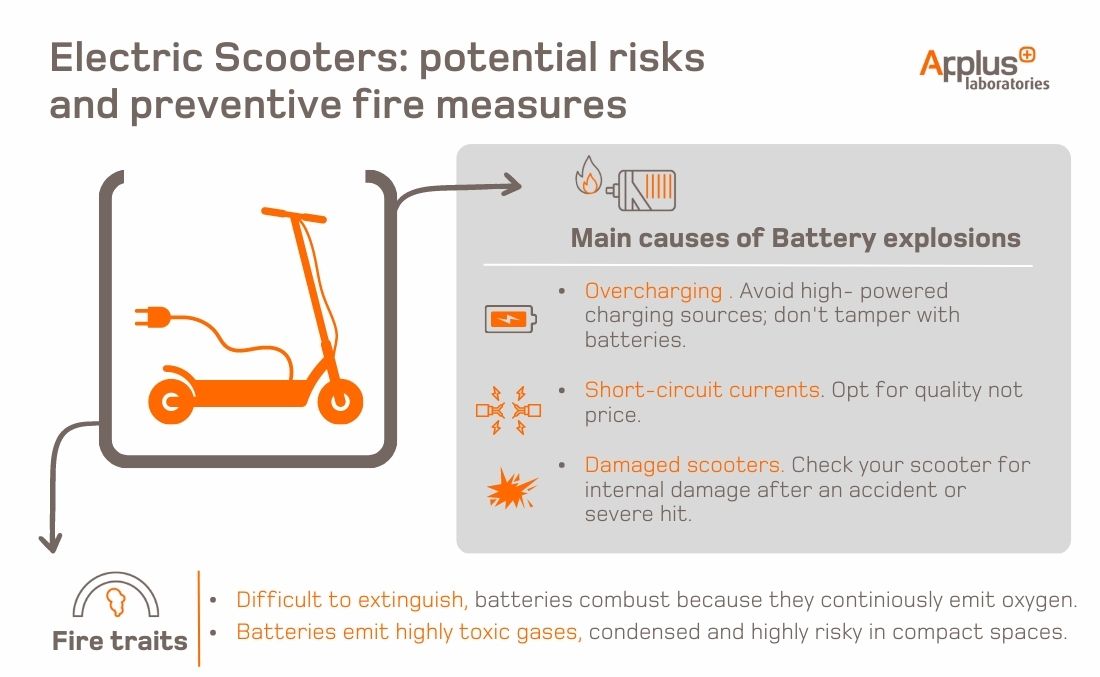 1 Electric scooters will no longer be allowed on public transport in Catalonia on 1 February
2 E-scooters: Fire on Tube prompts call for London transport ban. BBC News