This article on Storage Tank Inspections and Calibration utilizing Laser Scanning method will form part of a series of articles discussing laser testing methods, such as as-built documentation, BIM modeling, and other advanced laser analysis.
Owner operators are obligated to ensure the integrity of their assets surrounding continued service in accordance with multiple standards and codes. Efficiency is key to keeping overall costs down while providing key information needed to assess integrity.
Applus+ RTD is excited to offer a complementary method of inspection for storage tanks using laser scanning, and advanced tank analysis software. Utilizing laser scanning technologies for your tank inspection needs is, efficient, cost effective, and delivers 2cm accuracy – within a relatively short time span. Most tanks can be scanned in their entirety within 1 day, including both internal and external surfaces, and high quality deliverables can be generated from point cloud data acquired shortly thereafter.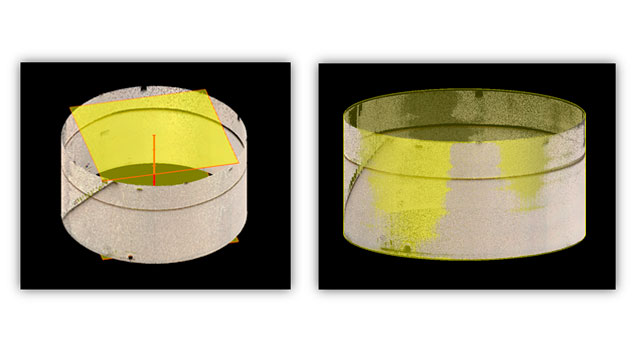 Here's how it works:
First we begin with collecting data on the tank itself, which are accomplished utilizing FARO laser scanning products. The tank is scanned completely around the outside / inside, and generates a "point cloud" of data. This point cloud serves as the foundation for advanced analysis, modeling, and even CAD creation if so desired. Using advanced tank analysis software, we are able to measure and determine the following attributes of the tank:
Beam / Column Inspection
Calibration / Volume Calculation
Containment Analysis / Spill Point Identification
Floor Inspection / Edge Settlement
GIS Analysis of Spill Path (outside berm)
Roundness/ Deformation Report
Verticality Report
Using laser scanning for your tank inspection needs, results in a higher degree of accuracy and confidence in a shorter amount of time than experienced prior. Here are some potential scenarios where you might want to consider utilizing laser scanning for tank inspections:
As-Built Documentation
Asset Documentation
Construction / Repair Planning
Environmental Concerns / High Consequence Areas
Modeling / CAD
Pre-planning for Focused Inspections
Traditional API 653 inspections
Mandated and or Jurisdictional Requirements
100% Photo Documentation
Virtual Walk-throughs and Walk-arounds to be Shared Internally with Stake Holders.

The best part about this service is the cost savings you can realize over traditional methods. The field scanning is very efficient, and the software automation allows for deliverables to be turned over in a short amount of time. Want to learn more? Contact us at info.usa@applusrtd.com