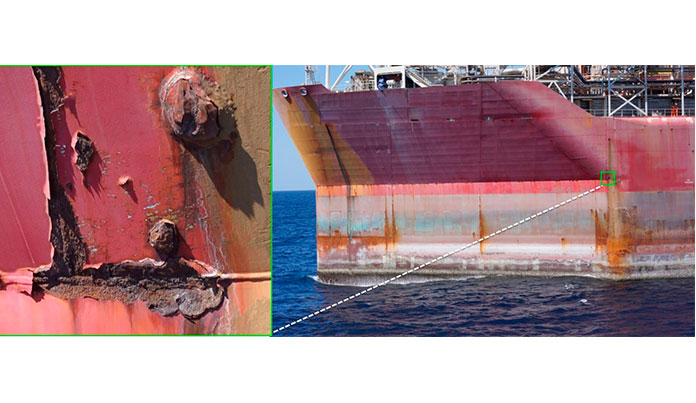 To ensure reliability, safety and efficiency, Applus+ employs only the very best industrial-grade drone systems, combined with many levels of redundancy and highly trained and experienced operators.
The drones are fitted with professional, mirrorless, full-frame digital cameras of up to 42mp, equipped with fast prime lenses.
With this high-end and correctly paired combination of drones, cameras and operators, Applus+ can provide the detailed, high-resolution inspection and analysis demanded by its clients around the world.
Drone inspections are ideal for carrying out remote visual inspections of hard-to-access places, such as the exteriors of cargo/tanker-ship hulls, floating production storage and offloading vessels (FPSOs) and other floating facilities. They can be performed while the facility is fully functioning and in-service, thereby saving on the shutdown and transportation costs that result from returning assets to port.
A visual inspection of a vessel's hull can be performed, for example, prior to a refurbishment campaign in order to assess the extent of the areas requiring work. This can result in significant cost savings and reduce the refurbishment crew's exposure to risk as they know exactly where works are to be performed as well as precisely which tooling and equipment is required.
Furthermore, Applus+ drones can provide a varied level of inspection detail based on the client's requirements, from general visual inspections to more detailed work involving infrared, high-definition video, photogrammetry and lidar.
Applus+ drones have successfully completed a large number of offshore, in-service, floating-vessel inspections for a number of different clients. With 10 years' experience of conducting drone operations with an exemplary safety record, combined with the world-class training and experience of our inspectors, Applus+ is able to provide facility and asset owners with the information they require regarding the condition of their assets.
Related Services