With the ageing infrastructure in the North Sea, preventing catastrophic release of highly hazardous material or sudden releases of energy (often referred to as Major Accident Hazards) is a challenge which the Oil & Gas industry has taken seriously, and asset integrity is a key element of their safety strategies. Asset integrity is essential for ensuring a safe, sustainable industry, and involves the implementation of inspection, testing, verification and other necessary programmes to ensure that critical safety equipment is fit for purpose throughout its operating life.
Maintaining hardware to be safe, reliable, and efficient is not only essential to minimize the potential for major accident hazards facing Oil and Gas companies around the world, it also plays a vital part in creating a physical environment that people are proud to work in and contribute to.

Creating this environment is one of the key strategies required to promote an incident free culture within the workplace that fosters safe operations and enrolls people in a common belief that all accidents are preventable.
So what is Asset Integrity?
Asset Integrity
is one element of a Robust Safety Management System. Asset Integrity (Process Safety) differs from Occupational Safety (Personal Safety) because it focuses on the hazards that are more likely to result in Major Accidents (i.e. gas explosions, jet fires, ship collisions, etc.) affecting large numbers of personnel rather than incidents affecting individual workers ( i.e. slips, falls, struck-by incidents, electrocution, etc.).
Asset Integrity can be defined as the ability for an asset to perform its required function effectively and efficiently whilst protecting health, safety, and the environment. Asset Integrity Management is the means of ensuring that the people, systems, processes, and resources that deliver integrity are in place, in use, fit for purpose, and will perform when required over the whole lifecycle of the asset. Asset Integrity begins with the correct selection of design standards to be employed, use of qualified personnel for the completion of factory and site acceptance tests, trained maintenance staff, and certified inspectors all working to keep highly hazardous materials contained in the process and to keep Safety Critical Elements (
SCEs
) fit for purpose.
SCEs are essential for the integrity of any installation.
SCEs
are the parts of an installation and its plant (including computer programmes) whose purpose is to prevent, control, or mitigate Major Accident Hazards (MAHs) and the failure of which could cause or contribute substantially to a major accident. Maintaining a high level of reliability and availability of
SCEs
and the utility systems that support these
SCEs
to prevent or mitigate the effects of these types of events requires a written and comprehensive integrity program.
So what is an Asset Integrity Management System (AIMS)?
An
Asset Integrity Management System
(AIMS) is an essential element in the prevention and control of Major Accident Hazards.
The management of Occupational Safety and Asset Integrity have both similarities and differences, but it is important to understand that management of one does not assure management of the other.

Robust systems need to be in place to manage both, and the workforce should understand that both are equally important to the successful management of Safety, Health and the Environment.
Asset Integrity Management Systems (AIMS) details the program requirements needed for an asset to perform its required function effectively and efficiently whilst protecting health, safety and the environment and the means of ensuring that the people, systems, processes, and resources that deliver integrity are in place, in use and will perform when required over the whole lifecycle of the asset.

An Integrity Management System is more than just inspection and testing and must address quality related issues at every stage of the asset life cycle; from the design of new facilities to maintenance management to decommissioning. Inspections, auditing/assurance and overall quality processes are just some of the tools designed to make an integrity management system effective. Even the best
AIM
will fail unless they include the following best practices:
Design and Construction practices that ensure equipment is properly designed, fabricated, and installed;
Maintenance procedures that require repairs to be performed by trained and qualified personnel using approved procedures methods that have been developed in line with Original Equipment Manufacturer requirements;
Procurement procedures for ensuring spare parts and maintenance materials meet design or performance specifications;
Corrective action processes to rectify deficiencies and apply lessons learned from deficiencies or near miss incidents to other equipment/systems; and
Management Oversight and tracking of compliance through effective measurement of tracking of key performance indicators.
AIMS should also endeavour to maintain the asset in a fit-for-service condition while extending its remaining life in the most reliable, safe, and cost-effective manner. Due to their wide spread use around the world, many companies have elected to adopt US ASME code practices and / or US API recommended practices (such as: API-580, API-581, and PAS 55 requirements), as applicable. While these standards and recommended practices are recognized around the world, it is important to understand local legal requirements prior to development of an AIMS, which can best be achieved by referring to a competent, experienced local professional for advice.

AIMS improves plant reliability and safety whilst reducing unplanned maintenance and repair costs. But AIMS does not exist in isolation. In order to successfully implement AIMS in a dynamic operating environment, it is essential that all stakeholders have a consistent and a unified understanding of what the essentials of asset integrity are and how they can be applied in their day-to-day operations. This is often cited as among the most significant challenges in achieving an integrity culture within an organisation.

Unplanned Asset Integrity events such as hydrocarbon releases can result in injuries and fatalities. These are issues faced by the oil and gas industry every year and are usually a result of shortcomings in equipment, procedures, or human error during the construction or operation of a facility. Asset inspections identify poor conditions that could lead to an unplanned Asset Integrity event.
Figure 1 below diagrammatically illustrates the Major Accident Hazard Management Process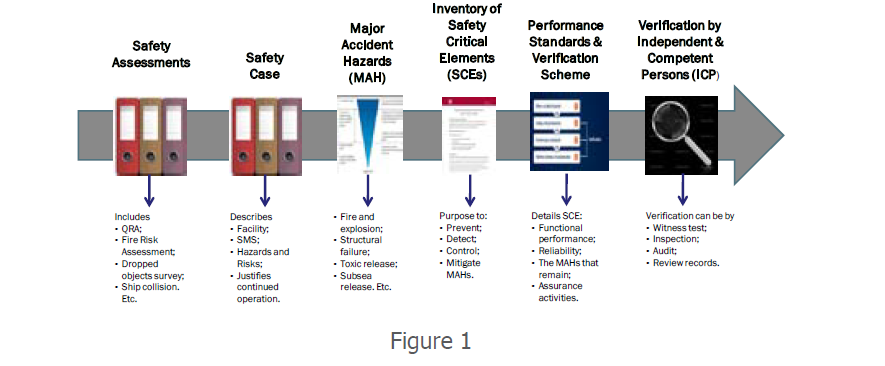 What is Your Role in Asset Integrity Management?

Take a look around your work site today. Are there any poor conditions? These may include the poor physical condition of plant, equipment and material; procedures not followed; untrained, not fully competent or inadequate numbers of people.

If you notice something, you must take appropriate action to prevent a dangerous situation arising. The Plant Manager, Asset Manager, Inspectors and Operators all have responsibilities which will include but are not limited to ensuring that:

You have identified Safety Critical Elements (SCE);
All equipment have been uniquely identified, inspected and tested;
There is a programme in place to ensure the integrity of spare parts;
There is a programme in place to monitor the inspection activities to ensure that all equipment is inspected, tested and calibrated on time and to the relevant standard;
All inspectors are trained and certified;
You use third parties to verify compliance to standards where appropriate.
Author: Mark Kenyon, Chartered Safety and Health Practitioner, Regional HSE Consultancy Services Manager.