At Applus+, we know that training our professionals allows the company to respond to new challenges. Our training programmes are adapted to each country, to the needs of our employees, and to their abilities and environments. The training our professionals receive offers them the opportunity to keep their knowledge up-to-date and develop their skills.
In 2020, Applus+ delivered over 750,000 hours of instruction. On joining Applus+, we present our new personnel with personalised goals and a development plan tailored to their individual needs and ambitions. Together, we refine and complete the plan's objectives thanks to regular performance reviews.
Developing the best talent is vital in our business, and at the same time, a challenge when considering the current dynamism of the labour market. This is why we provide our employees with real development opportunities, both personal and professional, through specific training actions, such as coaching, mentoring, knowledge of other operating models, knowledge of non-operating areas, leadership of new innovation projects, and rotation programmes.
We have online training tools such as ApplusNet, which allows us to reach all of the locations where we provide services. This increases our capacity to act globally, in addition to the training carried out locally. With ApplusNet, we carry out global evaluations and controls to optimise the economic investment necessary to keep our teams properly trained.
In addition, we have training platforms that adapt to our specific needs, both referring to the content or the geographical scope of training. These include Linkedin Learning, Social Selling - LinkedIn, Ascent, Seduo e-learning, and GoFluent to promote language learning.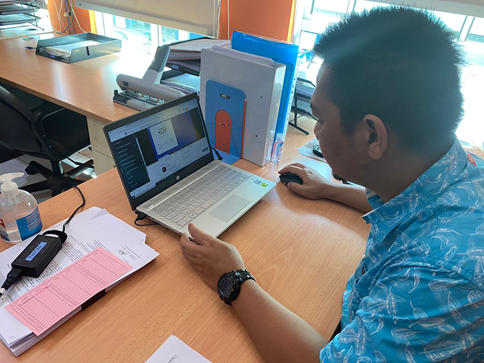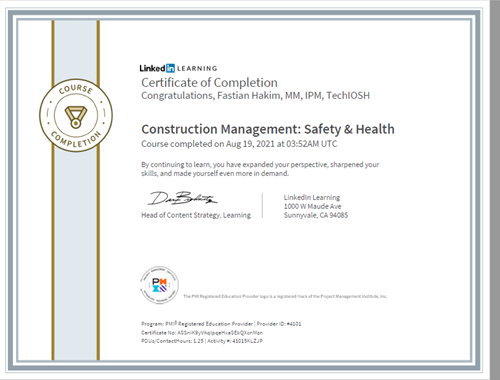 "I am very happy to be part of Applus+ Learner, a group within the LinkedIn Learning platform. All of the training I have received has provided me with new knowledge that improves my performance. The mentor videos are easy to understand and interactive. There are also quizzes and exams. After completing all of the courses, you can download the certificates yourself easily and without having to ask anyone", says Fastian Hakim, HSQE Country Manager for Applus+ in Indonesia.
We also provide development opportunities through programmes that foster our teams' capacity for innovation. This allows us to adapt to technological changes, provide a competitive advantage to our clients, and satisfy the developmental needs of our workforce.
For Applus+, ensuring the integrity and professional ethics of our teams is very important. This is why we work hard to ensure that one-hundred percent of our employees receive annual training on the Code of Ethics and the Group's policies. In addition, we work to guarantee security in the treatment of information, and for this, we have launched training in cybersecurity.
Some of the programmes we have launched:
This programme aims to promote the development and growth of present and future leaders, as well as employees with high potential worldwide. Once the participating profiles have been identified, a personalised training itinerary is developed online through the Microsoft Teams tool.
The programme is also aligned with our commitment to develop and use new technologies that allow for the agile and consistent promotion of digitisation projects in the sector. Following this, all training pathways include specific instruction digests covering digital tools and applications.
Applus+ and Saudi Aramco
Applus+ is highly committed to developing the careers of young Saudis to become our future generation of Quality Assurance and Quality Control (QA/QC) inspectors. The accredited training we provide is in line with the vision stipulations of the Saudi Arabia 2030 plan, a strategic framework to reduce dependence on oil coordinated by Saudi Aramco.
Applus+ selects and trains inspection staff in close collaboration with Saudi Aramco, the organisation which ensures compliance with Saudi Arabia 2030 plan. Since 2018, over 100 Saudi apprentices have successfully completed their on-the-job training and reached the level of inspector.
A total of 127 graduates from the Inspection Technology and Quality Assurance National Institute (ITQAN), a non-profit teaching institution working with Saudi Aramco, have completed the Applus+ accredited and approved inspector-training curriculum. Of these, 53 approved inspectors are already participating in various projects to complete their training, while the remaining newly trained candidates are awaiting approval from Saudi Aramco.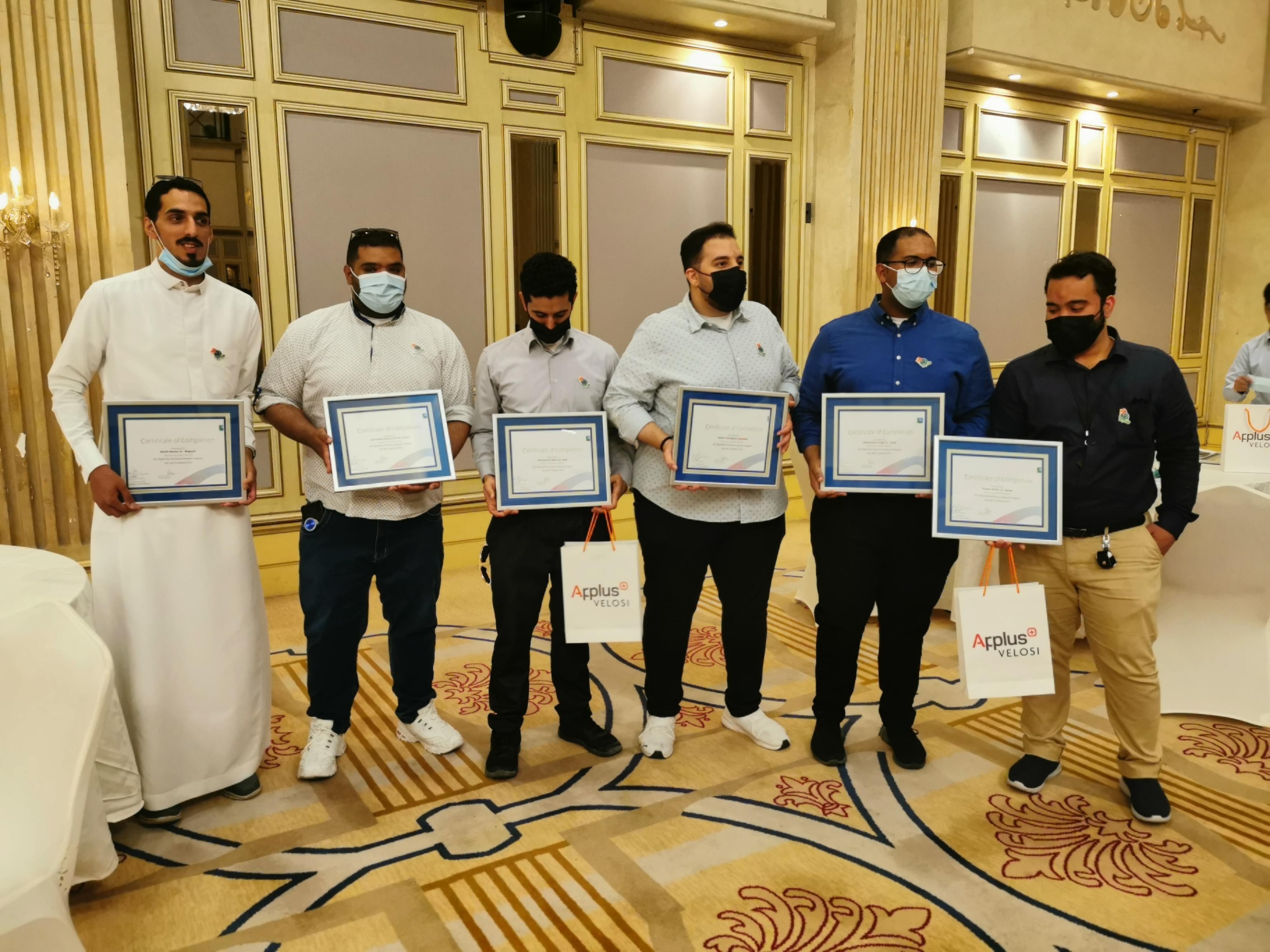 We have also developed an online training programme to enhance the skills of our Saudi apprentices and develop their technical knowledge as QA/QC inspectors. This allows the training to continue remotely, which also reduces physical interaction, in line with the recommendations and precautionary measures of the health authorities.
Applus+ has built a team of experts made up of our local, regional and global technical professionals. Together, they have designed and developed around 68 eLearning training courses.
NDT training
At Applus+, we have been developing specific training programmes for technical profiles since 2017. These programmes help participants to become non-destructive testing operators, expanding their specialisation in the different inspections, obtaining more certifications, and ultimately achieving greater employability in the market.
Similarly, we achieve a talent pipeline of professional profiles that is not easy to reach due to a scarcity in technical and professional disciplines.
We offer systematic training and a follow-up method to guarantee the effectiveness and development of the skills our people need, validated by an internal examination. Participants obtain the Certiaend NII, a certification granted by an independent body accredited by ENAC. Applus+ mentors the participants until they start working independently.
"Onderzoeker in Opleiding" programme
The purpose of the "Onderzoeker in Opleiding" programme ('research and training' in Dutch) is to train our candidates to become experienced researchers within two years. This need arises due to the increasing demand for researchers from our clients. Classes take place every day in our own classrooms, under the guidance of our teachers. Participants take classes in materials engineering, ventilator thresholds, iron measurement, and hardness measurement. After their training, the candidates are prepared to start working in the different regions where we operate.
SENA collaboration programme
Applus+, in agreement with the National Learning Service (SENA) of Colombia, develops training in network-supervision technology for a group of 25 electrical technicians.
Through this training, we guarantee that our teams can deliver high quality work. The training also promotes their development within the company, so that in the future, they can perform other roles and work at Applus+.
Knowledge transfer programme (K&L)
The knowledge transfer programmes deploys company experts to work on specific topics across the Applus+ Group. Over the past years, we have held more than 50 exhibitions on topics such as safety, quality, prevention, accounting and finance, and other technical areas. In addition, our experts travel to other countries to transfer their knowledge and to keep our teams updated.